29 Mar

Purple: opulent and fun

There is something about purple that says luxury. It also projects confidence and a bit of creativity. Wear it in sumptuous satin or rich velvet for opulent glamour. This colour also has a shade for everyone although the deeper tones are a great alternative to black as they have the same slimming effect.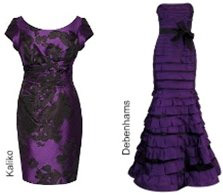 Which shade?
Deep purple to aubergine for darker colourings, medium shades for redheads, violet and light periwinkles are best for blondes. Cool shades from purple to icy violet look fabulous against white/ grey hair.
Add interest with a jacquard texture in satin like the Kaliko dress opposite. The dramatic Pierce 11 Fionda purple tiered maxi dress at Debenhams oozes red carpet elegance.
Link to Kaliko
Link to Debenhams