06 May

Rapunzel Syndrome Anyone?

Hi Everyone

It looks like it will be at least another three months before we can make a beeline to the hairdressers. Is it my imagination or is our hair growing at a rate of knots (sorry couldn't help it) these days? Perhaps because of this my thoughts keep turning to Rapunzel (I've a lot of time on my hands so please bear with me).

I grew up a total girly girl who loved colour, makeup and dressing up. Creating Positive Image was in part a natural result of this. However back in my childhood my girly personality did not fit in with my super short boy like haircut. I hated it with a vengeance and despite my begs and pleads to my mother, the hairdresser was instructed to chop my hair off every few weeks. To my horror she even shaved the back of my neck as I had a low hairline.

In my mortified misery I fantasised about being Rapunzel from my Grimm Fairy Tales book. The fact that she was locked in a tower was a minor issue. She had fabulous long tresses and that was enough for me. Fast forward to today and I am looking at my lovely long tresses and wondering like all of us when I can get a haircut. Be careful what you wish for…

The upside of this lockdown and this phase of dodgy hairdos is that when we finally get to the hair dressers we will have a wider choice for change if we want to reinvent our look. How often have you been told by a hairdresser that you are not ready for a certain style as your hair isn't long enough? Here are some tips on choosing hairstyles to flatter your face.
FACIAL SHAPE
It can be hard to assess your facial shape so here are some guidelines.
OVAL – Examples – Kelly Rowland, Blake Lively
This facial shape can take almost any style including hair completely swept back from your face. If your hair is long void very high up-styles as this can make the face appear very severe. Issues to consider are your scale, neck length, age and quality of your hair.
ROUND – Isla Fisher, Chrissy Teighen
The aim is to create more length to the face. Avoid very rounded bobs or perms which will make your face appear rounder. You can however handle a bit of bounce and height on the crown through up-styles or short layers. Also try soft layers coming forward onto the sides of the face. An asymmetric parting or fringe is also flattering. Sharp straight bobs with volume at the crown will also balance.
HEART – Reese Witherspoon, Scarlet Johannsen
The best style for you will be one that brings attention to the jawline. Long layers or flicked-out hair styles that finish at the jaw are ideal. Pulled back styles or styles that add volume at the temples or cheekbones are not great. If you have a fringe make sure it is light and feathered.
TRIANGLE OR PEAR – Sophie Ellis Bextor, Kelly Osbourne
The aim is to add width and volume at the top part of your face so plenty of bounce and volume at the crown and temples is good. If you opt for a long style make sure it is layered (soft curls work too) and ends below the jawline. If you want to pin it back try a voluminous top knot to add height and width to the upper part of face. If you opt for a bob or pixie cut make sure it is short (above the jawline) with lots of bounce at the crown. A sharp Deep side parting is ideal as is a strong fringe.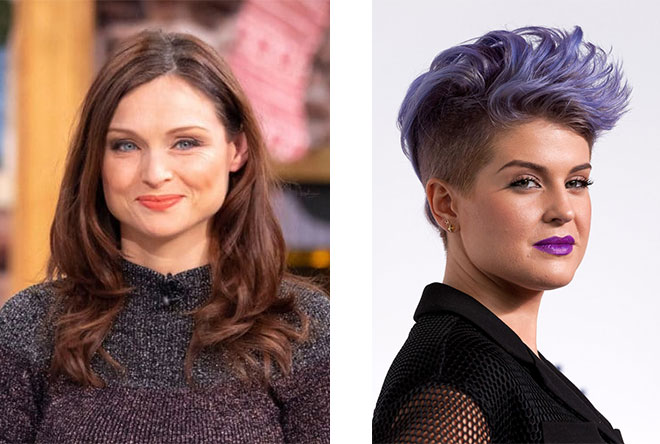 RECTANGLE – Gwyneth Paltrow, Kristen Wiig
The aim is to add a bit of width to your face so avoid poker straight long hair with a centre parting. Whispy asymmetrical fringes and partings with plenty of layers and volume to the side of the face are ideal. Avoid too much height and volume at the crown. If going for a bob make sure it ends at the jaw rather than the cheekbones or ears. Extreme short cuts can make the face look masculine.
SQUARE – Helena Bonham Carter, Kiera Knightly
The aim is to add length to the face as well as softness. Short to medium length styles with plenty of volume at the crown work really well as do off centre partings and whispy fringes. If your hair is long, try loose up-styles with strands of hair cascading down the sides of face. Like the rectangle avoid poker straight long hair or very full sharp fringes. If going for a bob avoid sharp bobs that end exactly at the jawline.
DIAMOND – Jennifer Lopez & Ashley Greene
Diamond facial shapes are the most unusual of all the facial shapes. If you look at the Heart Shaped face with the narrow chin and jaw along with the high cheekbones it is very like Diamond. The difference with Diamond is that the hairline and forehead are narrower than the Heart Shape. The best styles are long ones with lots of textured layers. Side partings or side swept fringes are really good too. Hair pulled back from the face is also great. If going for a short cut try a pixie cut or bob with side swept fringe and minimal volume at the crown.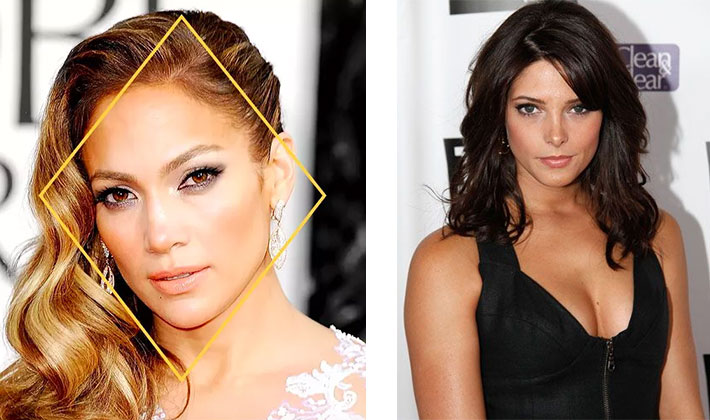 So if like Rapunzel you are in need of a haircut but lack an 'in-house' hairdresser please be cautious of doing a DIY job or getting a normal civilian to cut your hair. Unless you want to risk getting some unexpected and hilarious results. Hilarious for other people that is. I had so much fun reading a letter to the Irish Times recently from a woman who described a hair 'trim' she gave her husband that turned into a kind of mutilation. I would imagine he will be in lockdown for a while to come unless Mohican hairdos suddenly become the rage for men over the age of 50.
Enjoy planning your fab new look and keep safe!
Ruth